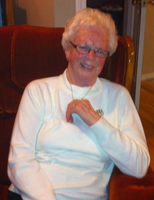 Lillian J. Penney
Lillian Jane Penney- passed peacefully away on Monday, October 8, 2018 at Central Newfoundland Health Centre, in Grand Falls, at the age of 87 years. She was born in Corner Brook on December 10, 1930 to Fred and Madora Oxford. In addition to her parents, she was predeceased by her husband, Robert; brothers: Cecil, Jack, Lemuel, and Job; sisters: Emily and Daisy.
Leaving to cherish her memory: three children, Avice (Rod) Wells, Neil (Brenda) Penney and Rob Penney; Four grandchildren: Julia (Greg) Ball, Laura (Adam) McAllister, Stephanie (Cory) Penney, Conrad (Ashley) Penney; and five great grandchildren; nieces and nephews other relatives and friends.
Visitation will be held at Families Funeral Home, 9 Forward Drive, Lewisporte, on Wednesday, from 2-4pm and 7-9pm. Funeral service will take place on Thursday October 11, 2018 at 11 am from St. Matthew's United Church in Lewisporte, with Reverend Stephanie McClellan officiating. Interment to follow at the United Church Cemetery in Roberts Arm.
Flowers accepted or donations may be made in her memory to the United Church Cemetery in Roberts Arm.